We were back in the kitchen Wednesday, for our third Cooking Matters class at Alliance. This week's class focused on choosing fresh fruit, vegetables, and whole gains. The meal featured this week was a Thai Noodle Salad dish but, of course, with a healthy twist. This dish incorporated spaghetti squash as a substitute for pasta noodles.
This week's class discussion covered a range of topics such as the importance of buying produce in season, the difference in buying fresh, frozen, and canned produce, and the importance of buying nutrient dense food with no added sugar or salt. One particular topic the class had several questions about was the difference between organic and non-organic. Our instructor, Lindsey Miller, educated the participants on the "Dirty Dozen" and "Clean 15" (see list below). These refer to the fruits and vegetables that are most and least contaminated by pesticide use, according to the Environmental Working Group. This is great guide to use when deciding to buy organic or non-organic foods!
The Clean 15 (in order of least contamination)
Onions
Sweet Corn
Pineapples
Avocado
Cabbage
Sweet peas
Asparagus
Mangoes
Eggplant
Kiwi
Cantaloupe
Sweet potatoes
Grapefruit
Watermelon
Mushrooms
The Dirty Dozen (in order of contamination)
Apples
Celery
Sweet bell peppers
Peaches
Strawberries
Nectarines
Grapes
Spinach
Lettuce
Cucumbers
Blueberries
Potatoes
Moving to the kitchen, the class was split into groups for each part of the meal. The participants loved using spaghetti squash to create the noodles. Once the vegetables were cooked and the dressing was mixed, the meal came together and tasted just as wonderful as it smelled!
As the class came to an end, the participants left with their bag filled with a variety of produce provided by the Interfaith Food Shuttle and this new recipe to try again at home. Stay up-to-date with our posts to see what fun meal we will be making next week!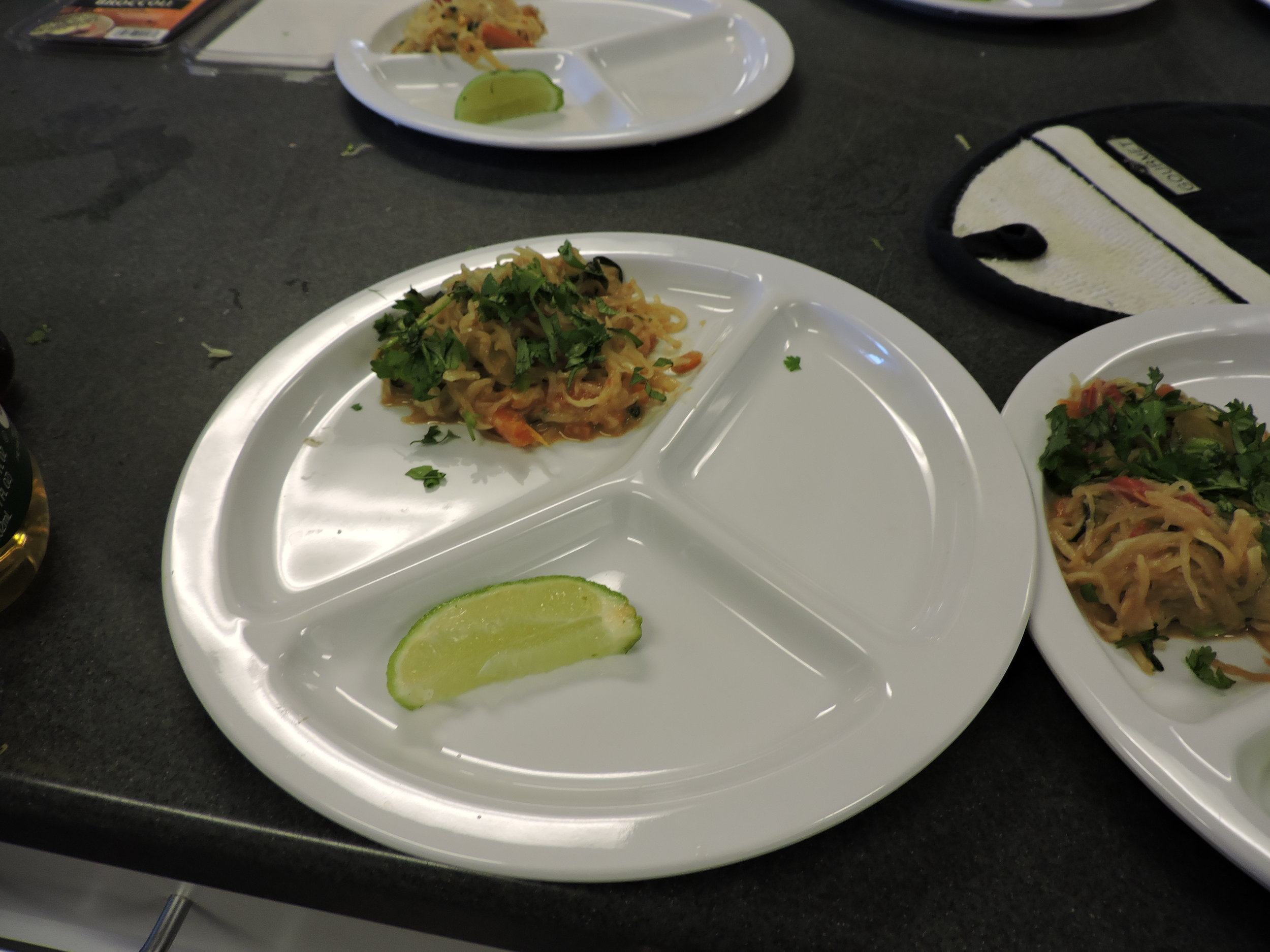 Noodles:
1-2 cups spinach
1 red bell pepper, chopped
Bean sprouts
3 scallion, diced
2 carrots, shaved
1 spaghetti squash, cooked
Coconut oil
*Tip! Add cilantro for extra flavor!
Dressing:
2 Tablespoons soy sauce or tamari
2 Tablespoons almond butter or natural peanut butter
2 Tablespoons sesame oil
2 cloves garlic, minced
Juice of 1 lime
1 Teaspoon pure maple syrup
1 Teaspoon fresh ginger, grated
Directions:
How to cook spaghetti squash:
Prepare spaghetti squash: Preheat oven to 375 degrees. Cut the tip of the spaghetti squash off with a sharp knife. Place the cut side down on your cutting board to give you balance and stability. Cut the spaghetti squash in half, lengthwise. Scoop out the seeds. (Toast the seeds if you like) Place the cut spaghetti squash face down in a baking dish with 1-2 inches of water. Cover with tin foil and bake squash for 30-40 minutes… until outer shell is soft.
Let squash cool a little, then scrape with a fork to make "noodles".
Put dressing ingredients in a jar and shake to mix or whisk in a bowl. Add a dash of water to thin it out to desired consistency.